The 11th edition of the World Rugby U20 Trophy kicks off in Bucharest on Tuesday with eight teams doing battle for the title, and the right to compete in the U20 Championship in Argentina next year.
Samoa return to the competition after their relegation from the Championship in 2017, and are one of three previous winners competing in Romania, alongside the hosts and Uruguay.
Head coach Laauli Rudy Leavasa and his players will be aiming for a swift return to the Championship and history is on their side. Samoa have won the World Rugby U20 Trophy on their two previous appearances in 2011 and 2016.
However, the Pacific Islanders will not have it all their own way as they bid to make it three from three in the Romanian capital.
The hosts, winners in 2009, are Samoa's second opponents in Pool A and will not want to disappoint the home support as they make a first appearance in the competition since 2010. Hong Kong and Namibia – who finished fourth in 2017 – meanwhile, have both arrived in Europe full of confidence.
Uruguay, a team with a strong tradition in this tournament, familiar foes Fiji, twice runners-up Canada and last year's surprise package Portugal make up Pool B.
World Rugby U20 Trophy 2018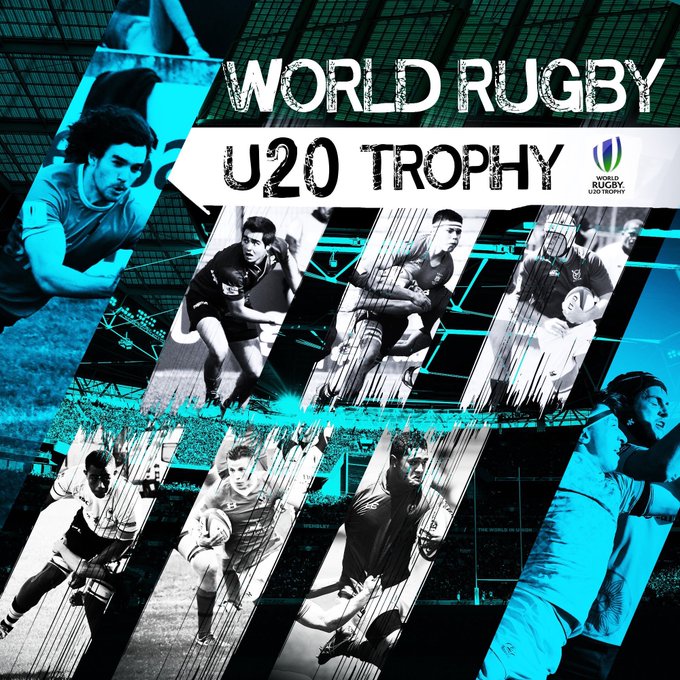 In Montevideo 12 months ago Portugal reached a first World Rugby U20 Trophy final where Luis Pissarra's team were beaten in a rain-affected title decider by Japan, who ran out 14-3 winners in a match shortened to 67 minutes due to the monsoon-like conditions.
A year on no-one will be caught off guard by the varied talents of Os Lobinhos, who wrapped up back-to-back Rugby Europe U20 Championship titles with victory over Spain earlier this year. That success has helped give the squad confidence they can compete on a world stage once again.
"Although the other teams are much bigger names than we are and much more experienced at this level, we know we can do it (win)," Manuel Peleteiro, one of three co-captains in the Portugal squad, said.
"But we aren't thinking that far ahead, we are just focused on the first game against Canada. There are some players returning from last year which is good because they have the experience of playing in a major tournament like this.
TEAM BONDING
"For me, it is going to be a great experience and a real test physically and mentally.
"We won the European Championship in Romania in 2017 so we have good memories of playing there."
Portugal's first game in their fourth appearance in the World Rugby U20 Trophy is against Canada, and the North American side's coach Jeff Williams is fully aware that his side will need to start well if they are to avoid a repeat of the pool defeats they suffered 12 months ago.
In order to make sure they fare better this time around the players, led by captain James O'Neill, have enforced a 'no cliques' policy within the group while the coaching staff has worked hard to make sure that the squad is playing collectively for the same goal.
"First thing coming into camp was that you had to introduce yourself and tell something about yourself," explained Williams. "We just built those little things, in meetings we ask guys different things and then we have what we call this 'bus culture' where we get guys to sing on the bus.
"It's all really like built around trying to build that positive culture and that if you get to know the guy really well then you're going to go to battle for him."
WORLD CUP ON HORIZON?
Captain O'Neill added: "Everyone is getting along really well, the spirit's really high. We're just buzzing to get going."
With the senior Canada team playing in the Rugby World Cup 2019 Repechage in Marseille in November, there is an added incentive for their U20 counterparts to do well in Bucharest. Williams is confident a number of his players can put their hand up for selection with a good showing in the U20 Trophy.
"We really do have an exciting group of players coming through, and I definitely think there's a couple of players on this team who are knocking on the door right now, so I think having a good tournament and then really showing that they can perform under pressure, which is what Kingsley [Jones] will want to see.
"As rugby players we strive to play against the best of the best, so for that we know we need to win all our games here. It will not be easy but if we stick to what we have practised I am in no doubt we can do very well."

Hong Kong co-captain Mark Coebergh
"I think we'll see one if not two of these guys on this team with that senior team for the World Cup if they qualify – or even in the qualifiers."
Hong Kong – whose senior team have also confirmed their place in the four-team repechage in Marseille – lost to Canada in the seventh-place play-off 12 months ago, and they are hoping for better this time around.
"In terms of my expectations, it will be a very tough tournament, especially with Samoa first up, then Namibia and Romania," co-captain Mark Coebergh said.
NEW CHALLENGE FOR ROMANIA
"Strategically and technically we have to be very smart to put in a performance that will help us win. We are all looking forward to it and if we can put in a performance like we have in training we should go well.
"To qualify for the Championship next year, it would be great. As rugby players we strive to play against the best of the best, so for that we know we need to win all our games here. It will not be easy but if we stick to what we have practised I am in no doubt we can do very well."
Hosts Romania have drafted in the vastly-experienced Danie de Villiers to coach their U20s on home soil and he knows the challenges his group of players face after so long away from this level of competition.
"We know that we are in the Trophy by way of hosting it but it's a huge opportunity to test ourselves against some quality opposition," insisted de Villiers, the former Tunisia sevens and 15s coach.
"Over the past few seasons we just played in the European Championship, which meant the same opposition but this will give the guys the opportunity to experience different teams, different playing styles and different cultures and most importantly connect with more people from around the world that share the same passion as them.
"We are very realistic about our chances in the tournament. We will still be playing against some very good opposition and a lot of the goals we have for the tournament is more process driven. We have a few players who have never played on this level and for them it will be a huge stepping stone but also a very important learning experience. From that point of view we would consider top four as a successful campaign."
Asiarugby.com Coverage
World Rugby U20 Trophy >>>> Fixtures and Results