In countries where it is common for girls to walk eight kilometres to school or work before facing the prospect of early marriage, there is no notion of sport as a cultural norm.
For many girls and boys in Laos, a mountainous, landlocked country in south-east Asia, the norms of childhood as Australians might understand them don't exist.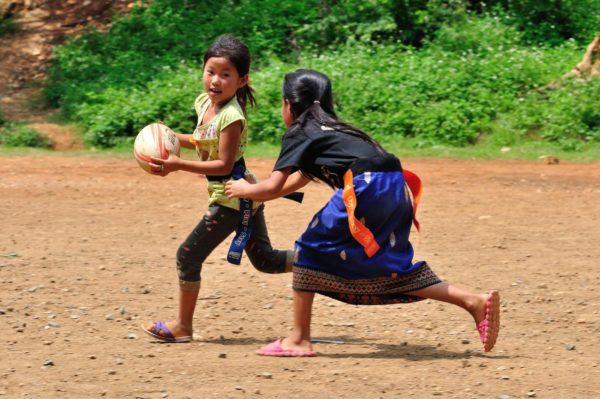 So a small program using rugby to impart life skills to children is being described as "revolutionary" for the space it is carving out for boys to be boys and girls to be girls.
"[In Australia] there is this notion that a child is entitled to be a child and entitled to play and hang out, but a lot of these kids are starting from environments where none of that exists," ChildFund Alliance chief executive Michael Rose says.
"All of a sudden there is a space to engage, a mechanism to engage and permission given for girls, in particular, to be together, take responsibility for themselves and to acquire a set of skills which they'd have no way of acquiring otherwise.
"You take all of that, which is kind of revolutionary, you take 6000 kids in that situation, who then go back into their own families and start to influence their own siblings, go to school and start to influence their peers, and there's a set of attitudes and abilities that were not able to find their way into those communities, which are now rolling in through those communities. It's hard to imagine from our perspective just what a big deal it is in these areas."
"Legacy" is an overused term in the world of sport. But more than ever the FIFAs, International Olympic Committees and World Rugbys face pressure to leave more than just roads and stadiums in the countries that spend big – mega big – to host their flagship events.
The Rugby World Cup is no different. Next year's tournament will be the first held in Asia and the game's global governing body wants the legacy to extend far beyond Japan and give the sport – a comparatively unknown quantity in much of Asia – a foothold in the diverse region.
Which is where Laos comes in, and the ChildFund Pass It Back program, which has secured a game-changing boost by being named the official charity partner of Rugby World Cup 2019.
"What we love about it is it aligns our own values with what Pass It Back and ChildFund are trying to achieve," World Rugby chief executive Brett Gosper says. "It's a use of rugby to teach leadership skills, socialise and teach some values and it's 'pass it back' because those underprivileged kids in parts of Asia who benefit actually pass those skills back to their own communities. It's very aligned with us as a sport because we believe our sport is a life-skills sport that teaches certain values and builds character."
Pass It Back reaches about 6000 children at the moment with programs in Laos, Vietnam and the Philippines. But ChildFund, the development organisation running and funding the program, says the World Rugby partnership, which takes the form of an opt-in donation on booming World Cup ticket sales, will triple its reach.
"Already we're seeing a very big uptake in people opting in to donate as they purchase tickets for Rugby World Cup," Gosper says.  "We had an opt-in for our previous partner in England [2015], but this does seem to be ticking over at a rate that's much higher than the other. I think that means the rugby public are seeing the alignment, using rugby to get into underprivileged areas, socialise and help children build skills."
ChildFund chief executive Nigel Spence says it is by far the most successful sport-for-development program he has seen in action, not least because up to 55 per cent of participants are girls.
"We think the fact that it was rugby helped in some respects because it wasn't a sport that was known to people in those communities, so it didn't come with gender preconceptions that it was owned by the boys," Spence says.
"This is really quite mind-blowing for a lot of the girls to have the opportunity to participate in organised team sport, to hang out with their friends, to talk about important issues around their own development and their future. A lot of these girls are in situations where early marriage is a very big concern, they're coming from households with very low incomes, their educational levels are very low, so this has been quite liberating."
Australian sevens players Lewis Holland and Charlotte Caslick, and former Australian captain Rebecca Tavo, linked up with the program in Laos this year. Former Philippines Test captain Ada Milby, who was the first woman appointed to the World Rugby Council last year, is one of the program's biggest supporters. Milby helped get a pilot off the ground in the Philippines.
"A lot of sporting codes, especially team sports, say they'll teach you perseverance and leadership, and there's no discounting they do, but what is unique about Pass It Back is that it's measurable," she says. "Because it's a child-focused organisation that does lots of data collecion, we're able to track the progress of a child from when they start the program and to when they exit it.
"When we say they learn the values of rugby, we can track that at both ends of the program. That's the story that's powerful to tell to the public and potential donors and sponsors, because we can pick out these stories and show them it works, it's an actual impact."
Original Story
By Georgina Robinson   THE SYDNEY MORNING HERALD
https://www.smh.com.au/sport/rugby-union/world-cup-ticket-sales-helping-girls-be-girls-in-laos-and-vietnam-20181013-p509f7.html