ChildFund Pass It Back partnership aims to transform the lives of disadvantaged children in Asia
Fans can opt-in to donate to the programme when purchasing tickets from 19 September
Partnership forms key element of Rugby World Cup 2019 Impact Beyond legacy programme
Rugby World Cup 2019 in Japan will play a transformational role in the lives of disadvantaged children across Asia, thanks to a game-changing partnership between World Rugby and ChildFund launched today.
Fans purchasing tickets for Asia's first Rugby World Cup will be able to opt-in and donate ¥750, ¥1,500 or ¥3,000 to the ChildFund Pass It Back programme, which delivers an integrated life-skills and non-contact tag rugby curriculum, encouraging children and young people to inspire positive social change and 'pass it back' to their communities.
The programme includes education in the areas of leadership, problem-solving, gender equality, conflict resolution and life preparation.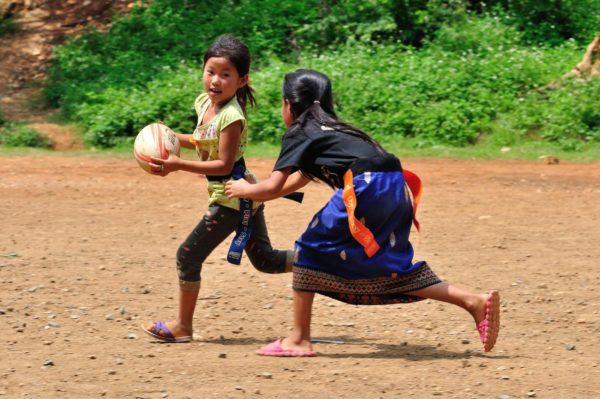 Pilot programmes in Asia have already reached 6,000 participants with 54 per cent being female. World Rugby and ChildFund now aim to involve a further 20,000 children from disadvantaged communities in Laos, Vietnam and the Philippines.
Donated funds will also assist children from disaster-affected areas in Japan.
World Rugby Chief Executive Brett Gosper said: "We awarded the tournament to Japan because we knew that it could be a powerful catalyst for sporting and social change in Asia.
As a transformational rugby for good programme, ChildFund Pass It Back is the perfect embodiment of that objective and we are excited about the impact rugby can have on thousands of children within the world's most populous and youthful continent.
"Rugby is a sport of character-building values and we have witnessed the solidarity of the rugby community in rallying behind tsunami-hit Kamaishi.
I am sure that fans purchasing tickets for Asia's first Rugby World Cup will be generous in supporting rugby programmes that will make a real and lasting difference to thousands of disadvantaged children."
ChildFund President Michael Rose added: "This is an exciting opportunity. We believe every child should have the right to play, which is why ChildFund's Pass It Back programme was originally established for children in rural and remote communities of Laos and Vietnam. These are children who face significant challenges around poverty and inequality."
The ChildFund partnership forms a key element of World Rugby's wider Impact Beyond programme, which aims to use World Rugby tournaments as a catalyst for the growth of the game and to share the spirit and values of rugby with all sections of society.
Impact Beyond runs alongside all major World Rugby events focusing on development, participation, coaching, volunteering and business programmes to further support the growth of the game.
For Rugby World Cup 2019 the ambitious target of one million new rugby participants was set by World Rugby and thanks to the hard work and collaboration with Asia Rugby and the Japan Rugby Football Union, the programme is on track to deliver on its objectives and inspire a new generation of rugby players and fans across Asia.
The next opportunity for fans to donate will be from the opening of the general ticket sales ballot phase on 19 September at www.rugbyworldcup.com/tickets. Rugby World Cup 2019 Worldwide Partner Mastercard is offering fans who apply for tickets using their Mastercard the chance to receive a double entry in the ticketing ballot.
With such exceptional demand for tickets, fans are being urged to buy exclusively from official channels to avoid being let down. For more details visit www.rugbyworldcup.com/buy-official.
Visit the ChildFund Pass It Back website for more information about this successful, innovative programme, or follow ChildFund Pass It Back on social media on Facebook, Twitter and Instagram for regular updates.